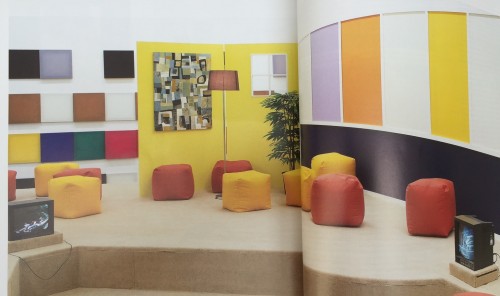 'Settlement, Shelter and Stowaway: From Location to Logistics', Screen City Biennial Journal 2017 (unpaginated, published online).
Letter From North Norway, Art Monthly 390, October 2015, 40.
'Artists' TV', Frieze Blog, 11 May 2016.
Celine Condorelli: Permutations of the Prop, Part 2, The Exhibitionist (Blog), March 1, 2016.
'Celine Condorelli: Permutations of the Prop, Part 1' The Exhibitionist (Blog), February 8, 2016.
(Interviewee) Voyage to the Virtual, exhibition at Scandinavia House: The Nordic Center in America, New York City, January 24 – April 4, 2015.
'Tractors, Tanks and Surveillance Towers: Declan Clarke's Group Portrait with Explosives', Mother's Annual, Dublin: mother's tankstation, 2014.
'Nathaniel Mellors: Exile from E-Den', Temple Bar Gallery + Studios, October 2014.
'Staging Mobile Spectatorship in the Moving Image Installations of Amanda Beech, Philippe Parreno, and Ryan Trecartin/Lizzie Fitch', Amanda Beech: All Obstructing Walls Have Been Broken Down, Belfast: Catalyst Arts, 2014.
Essay on the work of Michelle Deignan, LUX, August 2014.
Review of 'Dan Walwin, Sun room' (exhibition at Project Space P/////AKT, Amsterdam), This is Tomorrow, May 1, 2015.
'Introduction to Phillip Warnell's Outlandish: Strange Foreign Bodies', vdrome.org, March-April 2014.
'Berlin's New Society for Visual Arts', (article on the NGBK Berlin) Enclave Review 8, 2013: 11-12.
'Studio Spaces', (article on works by Auto Italia South East, Gerard Byrne, CAC TV, Luke Fowler, Pierre Huyghe, Liz Magic Laser, Nam June Paik, Olivia Plender, Elizabeth Price, Katya Sander and Rirkrit Tiravanija), Frieze 155, May 2013: 208-212.
'Thoughts About Curating Moving Images', Interviewed by Filipa Ramos (with Erika Balsom and Chrissie Iles), Mousse Magazine 38, April 2013: 56-61.
'Shane McCarthy Loop System', Mousse Magazine Issue 37, February 2013: 142-145.
'Moss Piglets, Meteorites and Mind-Games', (article on Pierre Huyghe and Documenta 13) Fugitive Papers Issue 3, Autumn 2012: 16-19.
'Staging Television: James Coleman's So Different…and Yet', Mousse Magazine 27, February 2011: 160-165.
Sarah Browne, Project Arts Centre Artforum, September 2011: 357-358.
Dougal McKenzie, Third Space Gallery Artforum, Summer 2011: 419.
Declan Clarke, Mother's Tankstation Artforum, April 2011: 227.
'School Days', Lewis Glucksman Gallery Art Monthly 343, February 2011: 29-30.
're : public' Art & The Public Sphere, volume 1, number 1, 2011: 92-97.
Phil Collins, Kerlin Gallery Artforum, January 2011, 232-233.
'Aesthetic Journalism in Practice: Manifesta 8 and the Chamber of Public Secrets' Variant 39/40, Winter 2010: 38-39.
Haroon Mirza, "Anthemoessa', Mother's Tankstation MAP Issue 22, Summer 2010: 82.
Katie Holten, Hugh Lane Gallery Artforum, April 2010: 207-208.
Fergus Feehily, Douglas Hyde Gallery Artforum, January 2010, 213.
'Art and (New) Media, Through the Lens of the IMMA Collection' What is Series 1, Dublin: IMMA Education and Community Programmes, 2009: 8-15.
Garrett Phelan, Mother's Tankstation Artforum, September 2009, 304-305.
James Coleman Artforum, Summer 2009, 349.
Lonnie van Brummelen and Siebren de Haan, Project Arts Centre Artforum March 2009: 254-255.
'Getting Even: Oppositions + Dialogues in Contemporary Art'  Art Monthly 323, February 2009: 22-23.
Ulla von Brandenburg, Irish Museum of Modern Art Artforum, December 2008: 313.
'Close Encounters of the Fourth Kind' In Media Res, MIT Comparative Media Studies Program, March 2008.
'Cinema Spaces and Structures at the 52nd Venice Biennale' CIRCA 121, Autumn 2007: 106-109.
'Jesse Jones, 12 Angry Films'  The Visual Artists' News Sheet: Critical Review Supplement Issue 1, December 2006: 9.
'Vivienne Dick' Commissioned essay for Luxonline, 2006.
'Venice and the Moving Image'  Afterimage: Journal of Media and Cultural Criticism, 33.1 July 2005: 10-11.
'Emporium of the Senses: Spectatorship and Aesthetics at the 26th São Paulo Bienal' Third Text, Vol 19, Issue 4, July 2005: 399-409.
'The Visible and the Invisible: A Partial View of Open EV+A 2005' CIRCA: Irish and International Visual Culture 112, Summer 2005.
'São Paulo: Various Venues: São Paulo Bienal' Contemporary 69, 2004: 59-60.
'Nomads, Tourists and Territories: Manifesta and the Basque Country' Afterimage: Journal of Media and Cultural Criticism, 32.3, November/December 2004: 8-9.
'Green Screen, Review of 30 Years On: The Arts Council and the Film Maker' (Festival Review) CIRCA: Irish and International Visual Culture 104, Summer 2003, 2-23.
'How Things Turn Out, Irish Museum of Modern Art' CIRCA: Irish and International Visual Culture 100, summer 2002.
'Plateau of Humankind: The 49th Venice Biennale' CIRCA 97, Autumn 2001.
'Barcelona: James Coleman', Fondacio Antonio Tapies CIRCA 91, 2000: 60.
'A Constructive Lack of Agenda' (Symposium review) CIRCA 89, 1999: 19-20.
'Siting Belfast: Context, Audience and the Symbolic Economy of the City' Variant, Vol. 2 No. 7, 1999.
'Postcard from Dublin' SuperUmbau (Interdisciplinary Urban Project Newspaper) Winter Edition, 1998.